I've always loved "scrappy" crafts; collages, decoupage, ransom notes... I'm a sucker for pretty slips of paper, and I tear apart most every magazine I get ahold of. I've even been known to furtively rip out pages in the doctor's office, shhh. So for my homemade valentines I like to go scrappy.
Back in Victorian days the ladies were really into the collage thing. They would sit around gabbing in parlors while they cut apart old magazines, books, and cards. I read somewhere that it was even a thing to trade your really good scraps, as in, "I'll trade you this wicked dove for those dope violets." The Valentines back in the day were especially cool.
I like finding these online, printing them off, then doing what they would've done; cut up old cards to make new ones. I made a bunch this week, using all stuff I had around the house and pictures I've saved for a while.
I went through my old scrapbooking stash, and found some fun paper. A couple stickers, a little glue, and - ooh la la - Victorian Style Valentines.
I even swiped the string off of a Valentine's present I just got. Ha! Completely free holiday decor. I love it.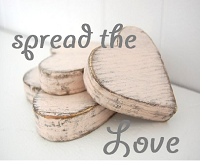 =====
AND on
Bower Power
's link-up Lovely Crafts Linky Party.